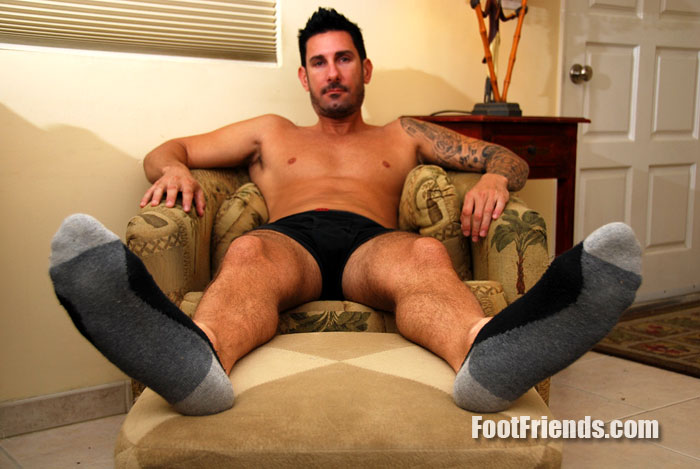 Years ago, Foot Friends was one of the first gay/male foot fetish sites around, but over time the site stopped updating and navigation and design became more dated. Then someone had an idea – to find a company that manages porn sites to make it modern and appealing and remaster everything. And so the current version of Foot Friends evolved to offer everything we love about amateur male foot fetish sites, so get ready because we're going in to take a look.

Foot Friends offers a collection of mostly amateur guys showing off their feet; you'll see jocks, older men, average guys and more, and they wear all sorts of footwear from sneakers to highly polished black dress shoes, and socks from white athletic socks to sheer black dress socks. There's lots of tickling sessions, foot worship and guys stroking their cocks; there's also light bondage, men in suits and ties, guys wearing nothing but their underwear and plenty of bare feet and dick on display.
There are 196 DRM-free, exclusive videos inside of Foot Friends, and they can be downloaded, streamed and viewed on almost any device from phones to your desktop computer. They played well and looked good on my Android phone as well as my older iPad. And of course, they played on my desktop computer at two non-HD sizes, the larger at 640×480, and they're average to good amateur quality, and I'd say that even the oldest productions are pretty decent considering that they were shot over two years ago. I didn't run into any issues with the videos.
These are also 645 exclusive picture sets. These offered in galleries with features I appreciated – the photos can be saved individually or in zip files, and you can navigate from pic to pic using arrows on the left side of each photo. The pictures are digital stills that are sized at around 465×700 at good amateur quality, and while some of the pictures – probably the ones shot the longest time ago – are more average quality, keep in mind they're older, probably shot over 12 years old and even so, the quality isn't bad.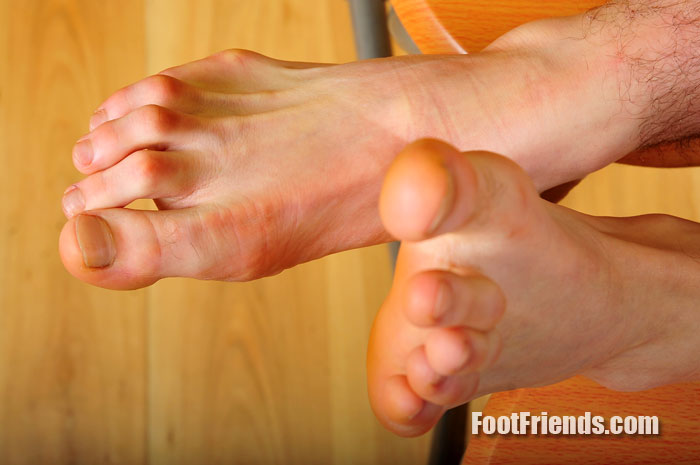 There are some downsides and things worth discussing. There's a pre-checked offer on the billing page, but it's easy to uncheck if you're not interested. If you scroll down the tour pages, you'll get a pop-up with an email signup form, but it's easy to close. The pics and videos aren't as large as modern ones, but considering their age (probably at least 12 years and many over 15), they're pretty good. And that leads us to one other thing I wanted to reiterate. The content here was shot years ago, but the vids are being remastered, and so updates aren't new productions; they're older content being added to the site – sort of new/old stock, if you see what I mean.
I've been a fan of Foot Friends for years, and that hasn't changed. There are all sorts of men in all sorts of shoes and socks as well as totally barefoot, and whether you love hunks, business men, rough men, average guys or some other kind of amateur, you'll find them here. There's all sorts of foot play, tickling and foot worship, and there's full-body tickling, as well as guys jerking off barefoot. The 196 videos are exclusive, and a new video is added once a week, although every once in a while it may be a day late, and for those who love male foot pics, there are 645 photo sets to turn you on. Navigation is pretty easy, too. Whether you're a fan of amateur foot sessions or hunky guys posing and showing off their feet, if you don't need HD videos, Foot Friends is well worth a look.
Prices
Primary processor: Westbill
$8.95 – 30 days, recurring
$59.99 – 12 months, recurring
Videos
196 exclusive videos to download, stream and watch on your mobiles. Newer vids available in 1920×1080 plus 3 smaller sizes at good amateur quality or better; oldest vids are offered in 2 non-HD sizes at average quality or better. No DRM used.
Pictures
645 exclusive picture sets. Pics are digital stills, most sized at around 465×700 at good amateur quality. Downloadable zip files available but no slideshows; pictures can be individually downloaded.
Screencaps
Want to see more?
Click here to check out Foot Friends!