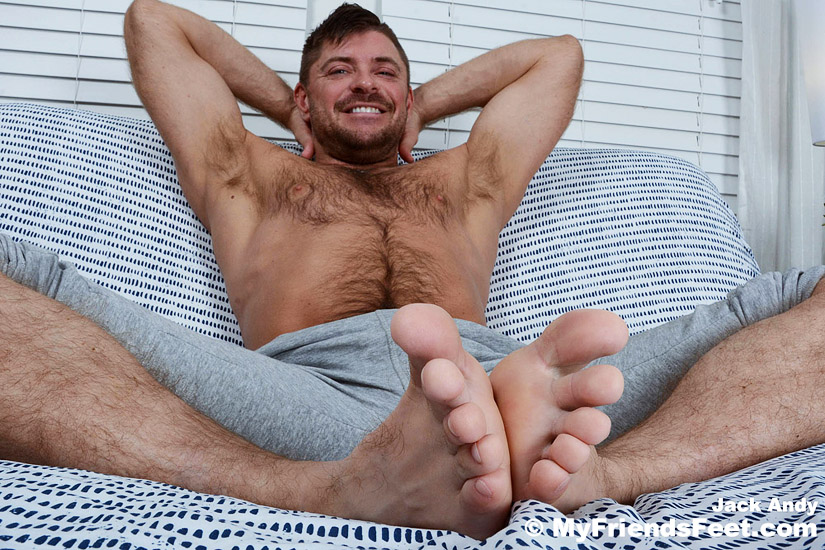 My Friends' Feet is one of our favorite gay/male foot fetish sites for several reasons. The content here is all exclusive and the site is large; it currently offers 903 videos and 1329 picture sets. Next, I like the updates as there are are two full videos and one picture set added each week. And I like the variety of foot-centric action including men in shoes, socks, in flip-flops and barefoot, hunks and porn stars feet being worshiped and plenty of very hot tickling sessions including many two-on-one scenes. Some of these include nudity, footjobs, handjobs and sex, as well as bondage, particularly in the tickling sessions.  

And of course, what My Friends' Feet really has going for it is the men. You'll find many porn stars, hunks, daddies and regular guys here, some with heavy tattoos or beards and maybe piercings, others clean-cut and handsome. Some wear suits and ties, dress shoes and dress socks; others wear workout clothes like shorts, tshirts and athletic socks and shoes. And others start off in flip-flops or sneakers and casual clothes.  Porn stars found in the member area including kinky Johnny Hazzard, built and hairy Chase Lachance, gorgeous Michael Fitt, as well as Justin Case, Ricky Larkin and mouthwatering daddy Trenton Ducati. And believe me, there are plenty more.
The 900+ videos here are all exclusive and DRM-free, and they can be downloaded, streamed and viewed on almost any device from phones to your desktop computer. They played well and looked good on my Android phone as well as my older iPad. And of course, they played on my desktop computer, the newer vids offered in four sizes of MP4 up to 1920×1080 to download and stream, the oldest videos offered in two non-HD sizes that are still pretty decent. I didn't run into any issues with the videos.
As mentioned, there are also over 1,300 picture sets.  These are offered in galleries with features I like – the pics can be downloaded individually or in zip files, and you can navigate from pic to pic using arrows. The pics are digital stills that resize to fit your browser; the newer pics are 900×1125 at good amateur quality, and while the oldest pics are sized at 375×500, keep in mind they're over 15 years old and even so, the quality is decent.
And there are some nice, foot-related extras. You'll find a large collection of foot-themed member stories that go back years, and there are usually two or three added each month. There are also two bonus sites. One, Achilles Heel Art, is a foot fetish toon site that was my absolute favorite toon site before they were brought into the fold for My Friends' Feet members. As far as I know, this site no longer updates, but there are over 600 pieces of exclusive, foot related erotic art. The other site, Jason Strong Tickling, offers hundreds of exclusive videos with pics of guys being tickled on their feet and elsewhere. I don't believe this site updates, either, but with over 400 videos there's a lot to watch, and the extras definitely add value for members.
There are a few things you might consider downsides. Not all the videos or picture sets have full nudity, although since the focus is on male feet and there's plenty of vids and galleries that DO have nudity and sex, I didn't find this a problem.  Navigation is a bit old school, but if you just stick to the "Video Clips" and "Photos Only" links on the left side of the pages, it's easy to find what you want. If you want both, you could use "All Content", and if you prefer to browse by niche, they're available, too, on the left side of the page.  As mentioned, the oldest pics and videos are smaller and lower in quality, but considering they're over 15 years old, I'd say they're fine.
My Friends' Feet delivers variety, hot men, lots of male feet in shoes, in socks, totally bare, and a wide variety of foot action including solos, foot worship, tickling and more.  With over 900 exclusive foot videos you can download, stream and watch on your mobiles, 1300+ pic sets, lots of foot-related extras and two new vids added weekly, there's a lot to keep members busy.  One last thing I like about My Friends' Feet is the price – at $23 for a full, unlimited month, it's a good value.  If you love men from amateurs to porn stars showing off their feet plus some hot sex (including foot sex), toe sucking and lots of all things foot related and you haven't visited My Friends' Feet, I highly suggest you check it out.  It really is one of the best.
Prices
Primary processor: Westbill
$23.00 – 30 days, recurring
$29.99 – 30 days, non-recurring
$34.99 – 90 days, recurring
$69.99 – 180 days, recurring
$99.99 – 12 months, recurring
Videos
903 exclusive videos to download, stream and watch on your mobiles. Newer vids available in 1920×1080 plus 3 smaller sizes at good amateur quality or better; oldest vids are offered in 2 non-HD sizes at average quality or better. No DRM used.
Pictures
1329 exclusive picture sets. Pics are digital stills, newer sized at 900×1125 at good amateur quality, oldest at 375×500 at average quality. Downloadable zip files available but no slideshows; pictures can be individually downloaded.
Extras
Access to Jason Strong Tickling and Achilles Heel Art.
Screencaps
Want to see more?
Click here to check out My Friends' Feet