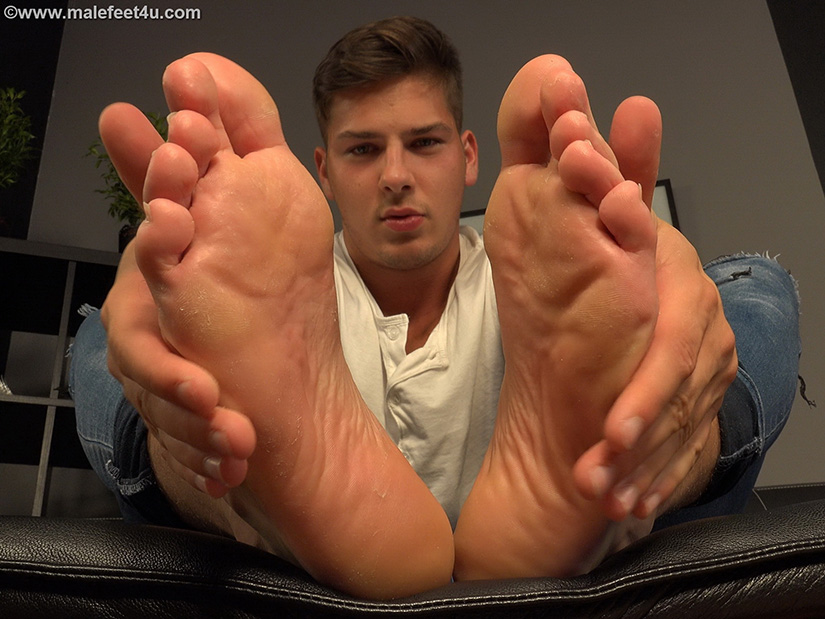 MaleFeet4U is the foot fetish site from legendary gay porn producer William Higgins.  He often uses performers from his porn site, although sometimes he'll also feature first-time amateurs, and since Mr. Higgins is based in the Czech Republic, you can expect plenty of sexy European guys.  This means shoe sizes are given in Euro measurements and you can expect lots of interesting shoe brands and uncut cocks.  Ready to find out more?  Click below to read our review of MaleFeet4U!
MaleFeet4U features a variety of guys, but most are college-aged or just a little older.  Some are slim, you'll find some who are a bit on the scruffy side, and while most are smooth, there's the occasional guy with a hairy patch on his chest.  And there's also the occasional bearded man, or a jock or bodybuilder, performers who range from athletic to muscular and may do a little flexing and posing, some nude and others in their underwear or clothes.  And this site really does focus on feet, so while there are pics and footage (pun intended) where the feet aren't showing or aren't the main thing, there'a always a lot more pics and video runtime showing off the models' feet in shoes, in socks or totally and deliciously bare.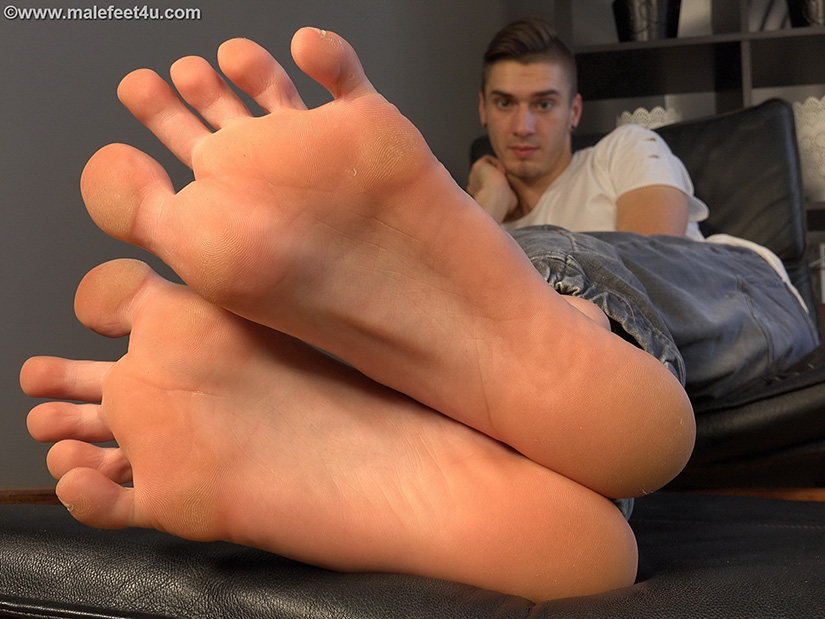 There are lots and lots of shoots of guys with bare feet.  Often things start out with them wearing shoes or flip flops, but while there are plenty of videos and pic sets with guys showing off in sneakers or socks, every session I checked out had plenty of barefoot time, as well.  There's lots of toe scrunching and spreading, guys sliding their fingers between their toes and more.  And there's plenty of guys totally naked and showing their assholes as well as their bare soles and toes, not to mention stroking their (mostly) uncut cocks.  There are also some massage and a few tickling sessions.
Something that stands out about MaleFeet4U are the Dream Sets.  Dream Sets are custom photoshoots made to member specifications, and for $75 to $120, they'll shoot your requests.  Want to see a smooth, blond twink dressed as a surfer and licking his own feet?  Or how about a jock in workout gear lifting weights while barefoot?  Have a particular MaleFeet4U model you want to see more of?  Whether you're looking for a guy in glasses trampling fruit, a particular model in uniform taking off his boots or a hunk oiling up his feet and pushing his fingers between his oily toes, they can shoot it for you.  It will appear on the site and they'll also send it to you.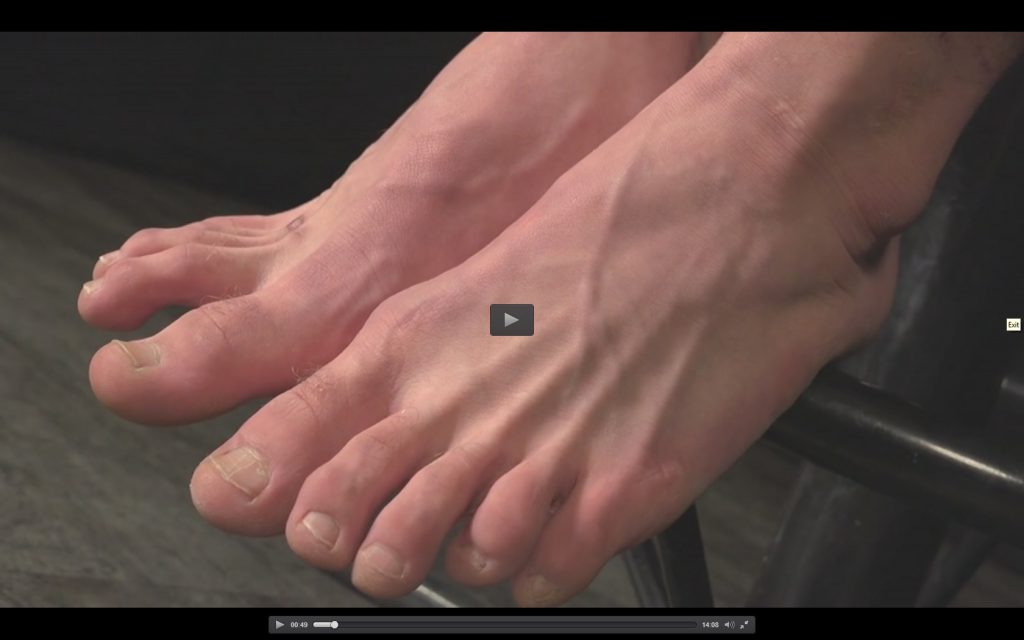 There are 1,678 exclusive videos in the MaleFeet4U member area, and three new videos are added every week.  The newer videos are offered in full HD at 1920×1080 at good amateur quality or better, and there's also a smaller size of 960×540 that will play on most newer mobiles – they played on my phone and tablet and looked really good.  Older videos are offered in MP4 format at 960×540 and in WMV format at 720×480, and while these aren't as sharp and clear, they look pretty good, especially considering they're from 2008 and 2009. The videos can also be streamed if you prefer to watch rather than download.
There are also 2,161 picture sets. The pics are digital stills sized at around 662×1000, and they range from good amateur to studio quality.  You can download entire sets in zip files or just save the individual pics you want to keep, and slideshows are available if you want to kick back and watch the pics.  By the way, the photos show off the guys and their feet to perfection.
Members and non-members alike can check out the MaleFeet4U blog.  It's actually offsite, but it's well worth checking out as it has info – sometimes lots of info – about the guys, shows a few pics from each shoot, and it's a good way to preview the up-and-coming guys and sets.
There aren't many negatives here, so let's get through them quickly.  There's a pre-checked email offer on the join page, but if you don't want to receive emails, it's easy to uncheck.  The tour is old school and a bit clunky, but it's easy to get around, and the member area is on the narrow side, but it's very easy to navigate.  I didn't get great results doing free-form searches, and there's no way to browse by models.  By the way, some of the oldest shoots don't include full nudity, but I didn't find that a problem as they still show off their feet and there's plenty of nudity in the newer content.
MaleFeet4U is a great site if you love male feet, European twinks and other types of guys from slim to athletic.  There's plenty of barefoot action, toe spreading, foot scrunching, lots of uncut cocks and masturbation and more in 1,678 exclusive, downloadable videos that are updated three times each week and 2,161 really hot photo sets that are also updated three times weekly. The videos are DRM-free and compatible with newer mobiles.  While nothing is perfect, foot lovers are sure to be happy with all the hot guys and feet in shoes, socks and bare.  MaleFeet4U is one of my favorite foot sites, and if you're looking for feet, it's definitely worth checking out – I think you'll really like what you find there.
Prices
Processors: Epoch and CCBill
$24.95 – 30 days, recurring at $19.95
$29.95 – 30 days, non-recurring at $24.95
$49.95 – 90 days, recurring at $49.95
$79.95 – 6 months, recurring at $79.95
Videos
1,678 exclusive videos to download, stream and watch on your mobiles. Newer sized at 1920×1080 (plus 960×540 for mobiles) at good quality. older videos offered in MP4 format at 960×540 and WMV at 720×480 at average quality or better. Streaming and mobile available.  No DRM used.
Pictures
2,161 exclusive picture sets. Pics are good amateur quality or better digital stills, most sized at around 662×1000. Downloadable zip files and slideshows available; pictures can be saved.
Extras
MaleFeet4U blog (linked from tour).
Screencaps
See the entire site –
Click here to check out MaleFeet4U!