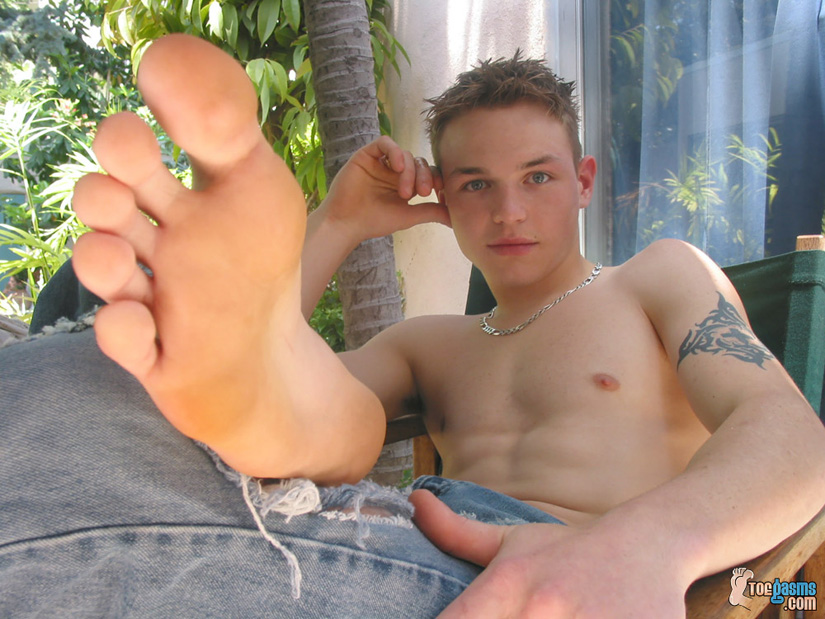 Today we're taking a look at ToeGasms, a site that features hot twinks, a mix of amateurs and porn stars (like Jeremiah above).  This site has a lot to offer whether you're into guys in sneakers, socks or barefoot, and the mix of sizzling solos and nasty hardcore with plenty of foot action kept me very interested.  Want to know more?  Click for our full review of ToeGasms!

ToeGasms has been around for years, offering us horny twinks, jocks, skateboarders, regular guys and porn stars showing off their feet, stroking their cocks in solos or giving footjobs as well as hardcore sessions where they also suck and fuck.  The content is exclusive and shot by someone who seems to get what foot lovers are looking for.   Most of the performers here are college-aged, so expect guys 19 to around 25 or so.  You'll find recent and not-so-recent twink stars including Zack Randall, Jeremiah Johnson, Shane Allen, Dillon Samuels and Kyros Christian,  Marcus Mojo, Evan Heinze, Ian Madrox and Turk Mason, some of whom have launched some of my favorite foot fantasies. The site also has a good selection of amateur guys and some who have appeared in some videos here and there.
There's more two-guy sessions than solos in the more recent videos with an occasional threesome.  You'll see guys lick each others' feet, blow each other, fuck, and there's some cummy feet, as you'd expect. The photo sets have more solos.  The guys take off their shoes, pose in socks and then pull them off like a stripper taking off her g-string.  They show off barefoot, and there are plenty of toe and sole closeups, as well as foot top pics.  Some are shirtless, and some of the more flexible guys might suck their own toes or lick their own feet. The solo videos have more nudity, lots of toe closeups, guys sniffing their own shoes or socks, and there's also masturbation sessions. There are also some scenes where there are several guys hanging out at the beach or indoors comparing each others' feet or just generally having fun but also keeping their feet on camera.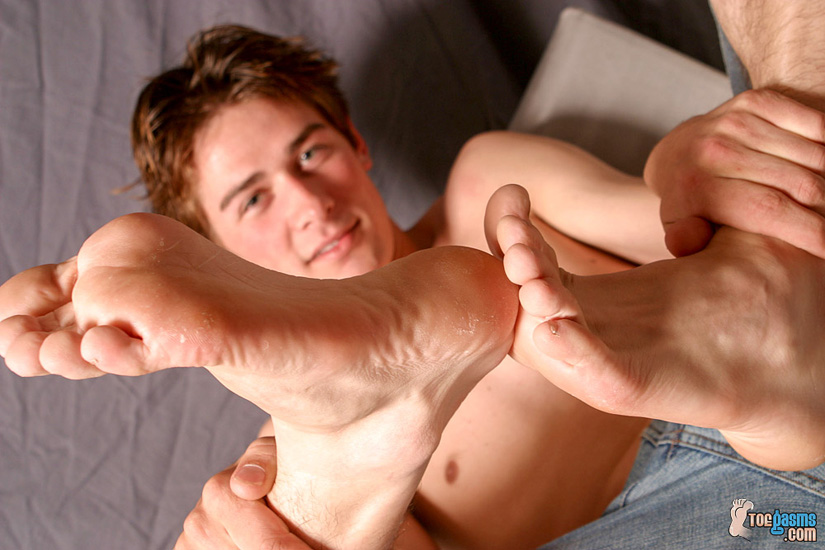 ToeGasms offers 265 DRM-free videos to download, stream and watch on your mobiles. Many of the newer vids are offered in four sizes from a small size for older mobiles to full HD at 1920×1080, and these are good amateur quality or better. The older videos (and some of the newer ones) come in two sizes at around 640×480 (some are 640×360 or 720×480), and while quality isn't as good as the newer videos, it's still pretty good; again the smaller size is good for older mobiles. Streaming videos played smoothly for me, and they can be enlarged to full screen, and members can download several videos simultaneously.
There are 397 picture sets, some galleries offering digital stills and others – particularly the oldest videos – offering screencaps.  The newer pictures are mostly good quality digital stills sized at 750×1000, the oldest the same size but closer to average in quality. And the older screencaps (and some of the newer ones) are also average quality or a little higher, sized at around 640×360. The pictures can be individually downloaded or you can save full sets in zip files. There are no slideshows, but you can easily navigate from pic to pic.
Full ToeGasms members get access to 11 bonus sites from the same network in niches including bondage, self-sucking, gay couples, straight guys and Zack Randall's site is included, too.  There's also a small collection of 38 gay bonus videos with no particular categories or themes. Altogether there are 2439 network videos, and three of the sites currently update for a total of four updates per week (one updates twice each week).
The biggest issue here is that the site stopped updating, so what you see is what you get.  Luckily there's enough here to keep you busy for a month or two.  Trial members get limited access; they can view "the latest ToeGasms full scene and 11 additional full scenes from other sites in the network". There's a big ad at the top of the page, but this can be turned off by clicking the minus sign next to the words "Promotional offers"; there's also rows of animated thumbs on the page bottoms that are ads for a live cam site. The site claims to be the "Largest Gay Foot Fetish Site On The Net!", but while it's got a decent amount of content, this is obviously not true. And last, there's a pop-up on the tour currently with a seasonal offer – I haven't seen pop-ups here on a regular basis, however.
I've always been a fan of ToeGasms.  Their well-shot pics and videos that show off their guys' feet in sneakers, socks or totally bare, this site delivers hot twinks, a mix of porn stars and amateurs for foot lovers.  Some of my favorites are there – Jeremiah Johnson and Shane Allen, not to mention Mike Roberts, Ayden James and straight skateboarder Brandon "Skug" Keene and newcomer Spoony.  The site offers 265 exclusive videos to download, stream and watch on your mobiles, and there are also 397 picture sets. I was disappointed about the lack of updates, but the bonus sites do help with that. And if you love twinks, jocks and guys in their early 20s showing off their feet and more, ToeGasms delivers the goods.
Prices
Primary processor: Westbill
$ 1.95 – 3 days, recurring at $24.95
$ 4.95 – 7 days, recurring at $24.95
$14.95 – 30 days, recurring at $24.95
$49.95 – 90 days, recurring
Videos
265 exclusive videos to download, stream and watch on your mobiles. Newer vids available at 1920×1080 plus 3 smaller sizes at good amateur quality or better; oldest vids are offered in 2 non-HD sizes at average quality or better. No DRM used.
Pictures
397 exclusive picture sets. Some pics are digital stills, newer sized at 750×1000 at good amateur quality, oldest at around 375×500 (some are screencaps at 640×360) at average to good amateur quality. Downloadable zip files available but no slideshows; pictures can be individually downloaded.
Extras
11 bonus sites, not foot themed but some are kinky; three of these sites currently update.
Screencaps
See all the guys showing off their feet and much more –
Click here to check out ToeGasms!